Are You Worried About Your Teenager?
Call (707) 544-9000
Email: info@creating-loving-relationships.com
Is Your Teen:
Cutting school?
Using drugs and alcohol?
Staying out all night and not answering texts?
Depressed, withdrawn or suicidal?
Cutting or harming him or herself?
Things May Feel Out of Control
Angry arguments may be disrupting the whole family. You may feel shut out. Worst case scenarios may run through your mind, and you're scared your kid is ruining his or her life or will be seriously hurt.
Raising a Teen Is Difficult
Adolescence can be a rough and messy time for kids and their families. Few people get just how embarrassed and alone you feel. Or how easy it is to feel like a failure as a parent. You may even feel resentful that your kid is putting you through this.
I Can Help Your Teen:
Learn impulse control.

Think carefully about the consequences of his or her behavior.
 Become more self reflective.
 Make responsible, positive decisions.

I Can Help You:
Unhook from power struggles.
Understand each other better.
Set reasonable limits.
Feel less guilty and worried.
Take better care of yourself as a parent.
I've Been There
I know how you feel, I've been there. My husband and I raised two kids and know how hard it can be.  I can help.  With over 30 years experience,  I'm an expert on working with families and adolescents. I've taught classes at Sonoma State University on adolescent development and teen problems.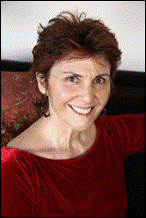 Corisa Aaronson, MFT Calif. License #14465
My training as a marriage family and adolescent therapist began at SSU in 1979 where I earned my Master's degree in psychology. I received my Marriage and Family Therapist license in 1981 and continued to train extensively in psychoanalytic and relational theory. My background in the performing arts lends a gusto and sense of humor to my work as a therapist.
Take the first step and consider our no obligation phone consultation.

I'd be happy to talk with you about your unique situation.
In Petaluma, call (707) 769-8050
or email me at Corisa@creating-loving-relationships.com
Creating Loving Relationships (also know as the Marriage Center for Counseling and Education) serves the online community as well the communities in Sonoma County, California including: Santa Rosa, Petaluma, Cotati, Rohnert Park, Sebastopol, Sonoma, Windsor, Healdsburg, Cloverdale, Kenwood, Glen Ellen, Calistoga, Bodega, Guerneville, Forestville, Napa and Novato.<br>94923 95425 94928 95441 95442 95448 95409 94952  95454 94999 95448 95409 95401 95403 95404 95405 95407 05409 95472 95476 95492
I provide teen counseling, adolescent and family counseling, psychotherapy for teen depression, help for acting-out teens, and other teenage issues such as anger, arguments, school problems, drug and alcohol abuse, cutting and self harm, suicidal feelings, and social problems.